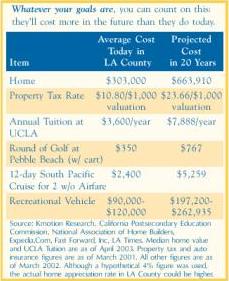 It can be overwhelming to try to calculate the exact amount of money you'll need for your future, especially when you're trying to figure how much you need to save in addition to any Social Security or pension benefits you're expecting. So here's a simple rule of thumb that many financial advisors use:
In your 20s, save 7% of your salary
In your 30s, save 10% of your salary
In your 40s, save 15% of your salary
In your 50s, save 20% of your salary

You may be able to save more; you may be unable to save this much. Regardless, the important point is to start saving as much as you can right now.

Don't forget, the County of Los Angeles will provide you with a dollar-for-dollar matching contribution up to 4% of your compensation, making it easier for you to save. So saving 7 - 20% of your salary may not be too difficult with the help of the County.

When you're planning for your future, you should also consider these factors:
You'll need to replace about 70-80% of your annual pre-retirement income. Experts suggest that you'll need about this amount to continue your current life style after you stop working full-time.
We're living longer and healthier lives than ever before. Most of us will live 20 years or more after we retire and lead fuller, more active lives than previous generations.
Social Security won't be enough. Even if you expect to receive Social Security, it will probably replace less than 20% to 30% of your annual income. If you have a higher income, it could replace as little as 10%.
Don't forget about inflation. Remember, inflation can erode your future purchasing power. So if you save more than the amounts shown above, you'll be even better prepared for your future. For example, to keep pace with an estimated 4% annual inflation, $20,000 today would have to grow to $43,800 to have the same buying power 20 years from now. For more help estimating how much you need to save, use the retirement planning calculators located on this Web site.
As time goes on Over the years, your goals for your future may change quite a bit. As they change, so may your investing strategy and how you choose to invest your money. What's right for you today may not fit your needs down the road. Take a few minutes to learn how to build the strategy that's right you, right now.